Author: WSUM Staff
Calling Chicago's Union Park its home since 2006, Pitchfork Music Festival has transformed from a niche indie festival to a star-studded, genre-bending musical experience. Year after year, Pitchfork provides a lineup as exciting as it is eclectic, consistently delivering a deep range of performers ranging from hip-hop and R&B to folk and punk. This year is no different – Pitchfork's 2018 edition, which runs from Friday, July 20 to Sunday, July 22, will feature headline performances from Tame Impala, Fleet Foxes, and Ms. Lauryn Hill. Rounding out the lineup is a mix of soul legends, indie darlings, and pop provocateurs – there's even a WSUM alumna in the mix! Here are some of the acts that we at WSUM are most excited to catch at the fest.
FRIDAY
Tame Impala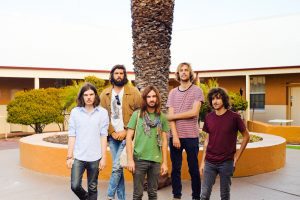 Psychedelic rock group Tame Impala is the brainchild of Australian musician Kevin Parker. Taking influence from 60's and 70's psych-rock, and bands such as My Bloody Valentine and The Flaming Lips, Tame Impala creates their signature dreamy pop music. All three of their studio albums Innerspeak (2010), Lonerism (2012), and Currents (2015) have received much praise from critics and for good reason. As headliners for Friday night, this is one set you ought not to miss. Their tour schedule for this summer is pretty exclusive and sparse, so expect a lot of die-hard fans to be in attendance for this rare performance. – Amelia H, Traffic Director
Courtney Barnett
Witty, deadpan, and self-reflective: all of these are of Courtney Barnett's most recognizable traits. This 30-year-old Australian native sure knows how to rock while rambling about "Crippling Self-Doubt and A General Lack of Confidence", as in her most recent album Tell Me How You Really Feel. In 2017 Barnett released a collaborative album with Kurt Vile titled Lotta Sea Lice where she explored her rootsy side with a heavier country-rock vibe. Whichever sound you prefer, there is bound to be plenty of headbanging from Barnett and her tousled locks. – Amelia H, Traffic Director
Syd
Syd is a dynamic R&B singer, rapper, and producer who is taking a late afternoon slot on the Green Stage on Friday. She is best known for her work as the frontwoman of the genre-bending Odd Future affiliate band The Internet. However, she also released a solo album in 2017 called Fin, proving that she can work well in a group but also carry a compelling project on her own. On Fin, Syd is very much in her own space. She definitely draws influence from her previous collaborations and group work, but she comes into her own with a slick blend of trap, sexy R&B, and soul. She has a signature swagger and confidence about her delivery, especially on the track "Over" (one of my favorite songs of 2017). With The Internet's new album Hive Mind set to release on Friday, this may be the last solo Syd set for a little while.  – David H, Web/Social Media Director
Melkbelly
Chicago natives Melkbelly aren't afraid to get loud. Really loud. With roots in the city's experimental/DIY scene, the band fuses pointed songwriting, jazz-infused percussion and piercingly brash rock to create a sonic landscape as chaotic as it is exciting. Singer and main songwriter Miranda Winters fronts the band, with her husband Bart on guitar. Rounding out the outfit are Bart's brother Liam on bass and jazz-trained James Wetzel on drums. Fresh off the release of their 2017 debut album Nothing Valley – named one of the best albums of last year by Paste Magazine – Melkbelly are taking their loud, brash sound on the road. In addition to their stint at Pitchfork, the noise rockers will be opening for Foo Fighters at Wrigley Field later this month. – Zach A, Promotions Director
*WSUM will be interviewing Melkbelly after their performance on Friday – stay tuned!
The Curls
The Curls are another product of the Chicago DIY scene that appear on Pitchfork's lineup. With six members – Mick, Jan, Anna, Carl, Michael, and Rami – the pop-rock outfit is a force to be reckoned with. They released two full-length albums over the past two years: 2016's Slice of Life and 2017's Super Unit. The band commands a large presence, and their Pitchfork performance is expected to be even larger – they're purportedly preparing an 11-piece ensemble complete with choreography. Though they'll be the very first act to play at this year's fest, they're most certainly not an act to miss. – Zach A, Promotions Director
*WSUM will be interviewing The Curls after their performance on Friday – stay tuned!
SATURDAY
Fleet Foxes
Ever since I heard their first album, self titled: Fleet Foxes, I was absolutely in love with the folk/indie sound they procured. Songs such as "White Winter Hymnal" and "Blue Ridge Mountain" are some of that albums highlights. Moving into their sophomore album, Helplessness Blues, they elevated their lyricism and explored deeper concepts and motifs. This album has its fair share of great cuts as well, such as "Helplessness Blues". Moving into their last album, Crack-Up, you can tell they took influence from bands like Animal Collective in their more ambient and strange sort of sound. Here, you can pick any song out of a hat to discern if you like the new direction they took or not. With their wide range of discography and sound, I'm overjoyed to see them at Pitchfork. I personally think they're a great headliner. – Andrew B, Community Outreach Director
Kelela
Kelela is playing the Blue Stage late on Saturday evening. Her debut album Take Me Apart was in Pitchfork's Top 5 albums of the year in 2017. The long-anticipated record is a sleek and futuristic piece of alt-R&B that shows Kelela taking on heartbreak, new love, and self-exploration. The instrumentation on the album is cutting edge, mixing elements of pop and hip hop with new wave R&B sounds. She conveys a remarkable sense of confidence, poise, and polish, and I think that those qualities will be evident on stage as well. – David H, Web/Social Media Director
Moses Sumney
A bright Saturday afternoon and Moses Sumney are a perfect match at Pitchfork this year. The R&B singer released his debut album Aromanticism last year on Jagjaguwar. Sumney is a unique performer who primarily sings in falsetto, which gives his songs a laid-back and warm feel. He mixes minimal guitars with a backdrop of strings and other ambient sounds to underscore his melodies. A record this stripped back will really foster a peaceful and intimate live environment at the festival. -David H, Web/Social Media Director
Zola Jesus
Nika Roza Danilova, better known as Zola Jesus, is more than just a familiar face. Hailing from the woods of Merrill, Wisconsin, the pop trailblazer is a WSUM alumna and noted fan of Paul's Pel'meni – she met her husband at the station and even had her own shows, "Jerkwave" and "Information Overload Unit." Since recording her debut album while still a student at UW-Madison, Zola Jesus has become one of pop's most creative and genre-bending forces. Her latest LP, 2017's Okovi, is a stark departure from her more pop-oriented releases. Meaning "shackles" in the Slavic languages, Okovi is a dark exploration of Danilova's own personal traumas. Danilova is an expert at packing deep, transfixing emotion into a single song or album, and her performance this year is sure to be an expression of that emotion. -Zach A, Promotions Director
*WSUM will be interviewing Zola Jesus after her performance on Saturday – stay tuned!
Paul Cherry
Not everyone can say that their career started with an ode to Olive Garden breadsticks. But that's exactly how Paul Cherewick, better known as Paul Cherry, began. His self-penned "Breadstick Ballad" caught the attention of the Italian chain restaurant via Twitter, inspiring a series of heartfelt back-and-forths and a hefty breadstick-based care package. Sub-par Italian fare aside, Cherewick got his actual chops as part of the Chicago garage rock scene. Since then, however, his sound has shifted from lo-fi rock to an embrace of psychedelic jazz-pop. His upcoming EP Flavour is inspired by the likes of Hall & Oates and the Carpenters, far cries from the brash sound of the DIY scene that he was brought up in. -Zach A. Promotions Director
*WSUM will be interviewing Paul Cherry after his performance on Saturday – stay tuned!
SUNDAY
Ms. Lauryn Hill
With one album, she changed the world. Though Ms. Lauryn Hill hasn't released a proper piece of work since that album, 1998's The Miseducation of Lauryn Hill, she's certainly cemented herself as a bonafide legend. Before breaking out as a solo act, L. Boogie was a member of seminal hip-hop group the Fugees, whose album The Score topped the Billboard charts and sold over six million copies. However, it was Miseducation that made Hill a worldwide superstar, garnering her multiple Grammys and further thrusting hip-hop into the mainstream. At the turn of the new millennium, however, Hill suddenly dropped out of the public eye in a self-imposed exile, eventually releasing an Unplugged album and touring sporadically. She'll be headlining the final day of the fest in celebration of the 20th anniversary of Miseducation – a rare performance from one of the most celebrated artists of the last two decades. – Zach A, Promotions Director
Japandroids
Canadian duo Japandroids have made quite the name for themselves since their 2012 album Celebration Rock. This band covers a lot ground in terms of their sound, drawing alternative and punk influences. Though as far as Celebration Rock goes, this album really thrust them into the eyes of critics and led to a nomination for the Juno Alt. Album of the Year. Personally, their garage-like sound has me gripped for the entirety of their discography. I know that they will translate that energy and excitement that into their performance. All in all, Pitchfork this year has kind of a mellow lineup, and it's refreshing to see them draw in a little more of a 'harsh' crowd. I can't wait to see it
Ravyn Lenae
Ravyn Lenae is one of many Chicago natives on this year's Pitchfork lineup. The 19-year old rising R&B singer draws from a lot of different musical places in her work. She meshes R&B and soul singing with progressive production to create a really unique blend of sounds. Her first two EPs were produced by Chicago's Monte Booker, and her most recent effort is the 5-song Crush EP. The tracks were all produced by Steve Lacy, and the pair are a potent combination. The single "Sticky" is exactly like its name: a catchy tune with a fantastic hook that you won't be able to get out of your head. Last time I saw her, she was warm and social while on stage. I can imagine another hometown show will bring out a similar vibe. -David H, Web/Social Media Director
Noname
Fatimah Nyeema Warner, better known as Noname, is another Chicago native gearing up to play at Pitchfork this weekend. Noname first gained a following in 2013 when she appeared on the track "Lost" with Childish Gambino on his Acid Rap mixtape. Three years later she self-released her first album Telefone, bringing her much critical acclaim. With no new music in 2 years, Noname has recently tweeted a teaser claiming a new album is on its way, although there is not a set release date. Will she be playing any new music this weekend? Only time will tell. -Amelia H, Traffic Director
Smino
Rounding out a fine trio of Chicago artists playing on Sunday, Smino's set will be a treat. He's a member of Chicago's Zero Fatigue collective (Ravyn Lenae, Monte Booker). The rapper has been teasing new music but is still riding the wave from his 2017 album blkswn. It's a masterpiece full of jazzy instrumentation, clever lyrical turns, and some sweet vocal melodies. Smino has frequently collaborated with other local acts who are playing the festival. He's no stranger to working with Saba, Noname, and Ravyn Lenae, so expect that there may be a bit of guest collaboration during his set. -David H, Web/Social Media Director
Japanese Breakfast
Japanese Breakfast is the kind of dreamy indie pop music you want to listen to while driving on long windy roads in a dreary weather, and will also be one of the most anticipated sets at Pitchfork this weekend. Michelle Zauner, more commonly known by her band's name started out on her solo project after leaving the band Little Big League. Japanese Breakfast released their first studio album Psychopomp in 2016, and went on to release Soft Sounds From Another Planet the following year. Fuzzy, warm, and a bit spacey, Zauner's music is both relaxing and invigorating at once. -Amelia H, Traffic Director