By Olivia Chavez
I am here to educate on the world's most important topic: pop punk.
Why pop punk? When I was seven years old, my dad played the music video for "When I Come Around" by Green Day for me on a random day after school. I was completely fascinated and watched it on repeat for countless days after. That day began my journey into the wonderful world of pop punk. 12 later, it is the vast majority of what I listen to and the subject of my show here at WSUM. For me, pop punk is a community that has given me some of my best friends and my favorite memories. The reason I started listening to pop punk was because I loved the way that a song could both help me work through my emotions and leave me feeling hopeful for the next day by the end of each song. The positivity in pop punk is something you have to listen for and it is a genre that challenges you to find the good in the worst of situations. This has allowed me to grow up along with these songs and love everything that the genre has added to my life. I have about 10 favorite bands, but my top four are Neck Deep, ROAM, Grayscale and WSTR. At the bottom of this article, you can find a playlist that includes what I feel is a selection of the best examples of the modern pop punk genre.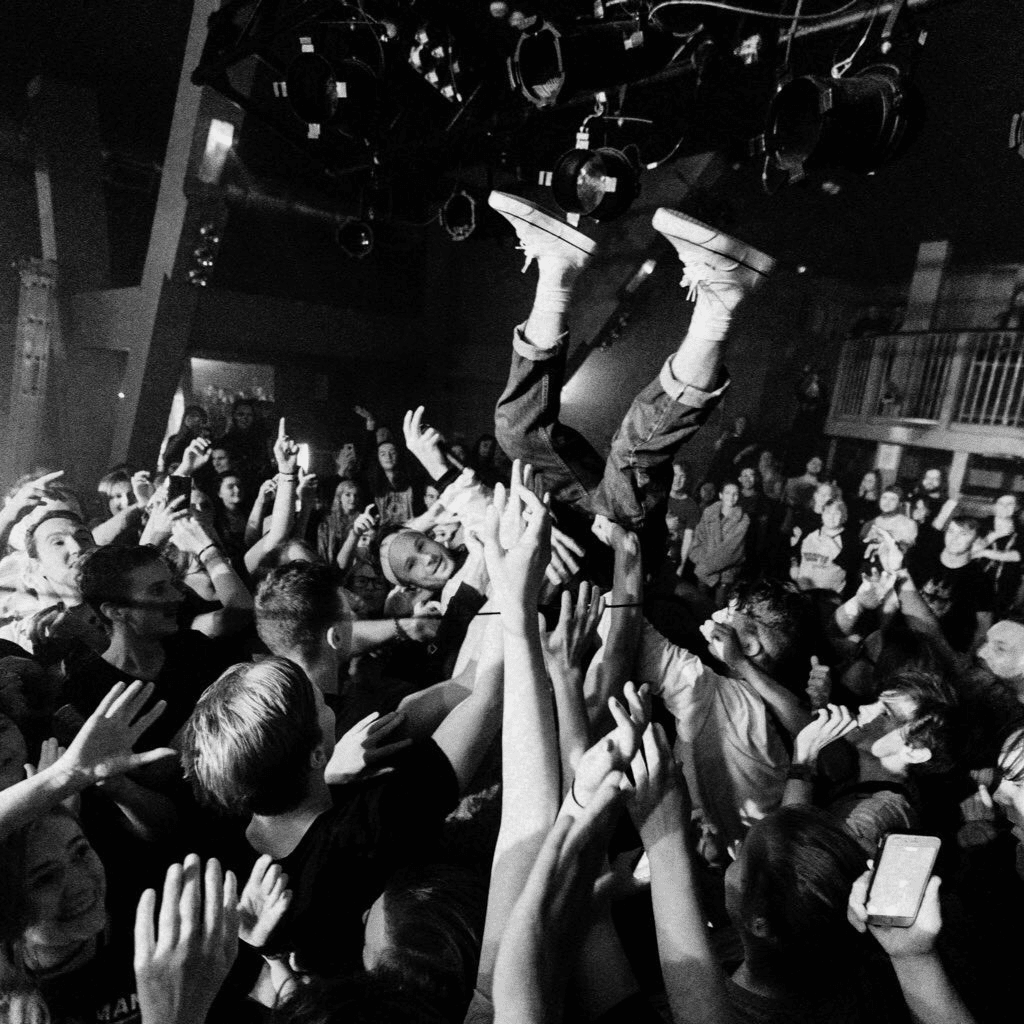 What exactly is "pop punk?" You might think the answer is simple, that it is just punk that sounds slightly more like pop, but you would be wrong.
Pop punk has become what is today through many different changes and arguments over what the genre is. Pop punk is not emo, or punk, or rock, or alternative or any of the genres it is so often looped into, but rather its own entity with elements that set it apart from everything that people think it is similar to. Lyrically, pop punk has elements similar to emo music, telling stories of heartbreak, love, life and everything that comes with it, but pop punk more commonly has lyrics that focus on the fight through life's hardships to get to something better, rather than lamenting the hardships themselves. One of the defining characteristics of modern (2010s) pop punk is the clarity in the vocals that are produced with clarity in mind. This is the opposite of the DIY and raw vocals that define most emo and punk music. Neck Deep's 2015 album Life's Not Out To Get You (see song "Gold Steps") is a favorite of many in the scene for its ability to exemplify the clarity between vocals and instruments, and the sadness transformed into hope for the future that pop punk most commonly focuses on. Pop punk is also not the "new emo," as many often mistake it for, because they do not understand emo or pop punk. Bands like Green Day and blink-182 paved the way for the pop punk genre, though neither fit perfectly into the genre themselves. All Time Low and Mayday Parade are two of the bands that pioneered the modern version of the genre, and both bands are still active today as icons for those who grew up with pop punk.
Some of today's most popular pop-punk bands, such as ROAM, Neck Deep, State Champs and WSTR, show a clear progression from their earliest EPs into their full-length records. They begin with more elements of punk music and transition into the clear vocals common in pop punk. The best example of this progression can be seen in ROAM's song "Head Rush" on the 2013 Head Down – EP because the band re-recorded the song for their first full-length record, Backbone, released in 2016. Both of the band's vocalists have exponentially more clarity in their vocals and the balance between the vocals and the instruments that allows the album to stand out as a perfect example of modern pop punk.
 Pop punk is also an extremely unique genre in terms of its audience, because it attracts those who listen to heavier music (i.e. metal and hardcore music) in addition to pop punk fans, mainly due to the energy of live pop punk shows. Most pop punk bands prioritize how they sound live, because live shows are arguably the most important aspect of a band's career in the genre. Aside from All Time Low, the vast majority of these bands are on one of about six specific independent record labels, which allows them almost complete creative control over the music and other projects they produce. Some of the most well-known labels in pop punk include Hopeless Records, Fearless Records and Pure Noise Records. 
    This article is not to say that pop punk is one specific sound without any deviations, because there is a wide variety of sounds within the genre. As with any artist, bands evolve their sound with every new record and are constantly pushing themselves to create something they feel proud to put into the world. A band can choose to be more upbeat and pop–like on one record, and heavier on the next and so on as their career evolves. In the end, the best part about the genre being called pop punk is that it allows bands ample room to change their sound while still maintaining their pop punk sound. There are several common threads throughout most pop punk music, and bands put their own variations on these to create their unique sound. Clear vocals are one of the most universal of these commonalities, helping provide a balance between vocals and instruments. There is a slightly more upbeat approach to the general message of each song in the writing process, giving pop punk its reputation as promoting hope even in the face of incredible sadness. Even with all of these common aspects, my favorite part of pop punk is the high energy and the heavier aspects of the music that have their time to shine in live performances. 
So there you have it, the world's greatest mystery has been solved.