by Allison Hartwig and Zoey Knox
Since we've all had a little extra time at home lately, we've found comfort in caring for our houseplants and spending time with our favorite artists. (Many of whom, thankfully, have recently released new music.) Here are our suggestions for plants and tunes to keep you company at home.
---
Fiddle Leaf Fig → Moses Sumney
Fiddle Leaf Fig is the plant that every instagrammer seems to have in their house these days. It is sometimes marketed as easy and typical, but fiddle leaf is not always easy. She is finicky and moody and will complain when she is too hot, or too cold, or too dry or doesn't have enough sun. She will act like she's dying but still grow new leaves and get skinny and tall even if she has enough sun.
Moses Sumney's discography can go from bombastic calls to arms to sweet Sufjan Stevens duets so fast it will make your head spin. And it's all inspired.
Start with: "Cut Me"
---
Philodendron → Cautious Clay
Philodendron is your best friend from kindergarten. He is a classic, easygoing plant that is a staple houseplant for the beginning plant parent. He is mellow, easy to get along with and will climb and trail down any bookcase you give him. Easily share cuttings of this plant with friends, as they root very easily in water.
Cautious Clay pairs his mellow voice with new R&B sounds and lyrics that could be texts to your best friend.
Start with: "Cold War" (If this song doesn't make you sway back and forth, nothing will.)
---
FireStick Cactus → Car Seat Headrest
FireStick Cactus is badass. She is a beautiful plant, with green stems near the soil, which change shade into red at the tops. She grows with tall arm-like structures and is just calling your name. But she is very protective of herself and is a POISON. A man once told me the sap from a FireStick could kill a small child, and I have been cautious ever since.
Car Seat Headrest makes moody, angsty, witty rock music. This is music for putting a note on your door asking your parents to leave you alone, for getting in your feelings and turning the sound in your headphones up to a dangerous volume. I love it.
Start with: "Martin"
---
Monstera → Samia
Monstera is becoming the new "it" plant to have, if it hasn't already. They are gentle giants, often displaying large sliced leaves and growing long and tangled stems. They are perfect for a tranquil bedroom or near your couch, and can handle most sunlight conditions. They love unfurling a big, new leaf to show you and hope you are proud of them for growing.
Samia makes beautiful, heartful tunes that make the most of everyday life. She takes her insecurities and turns them into light and catchy songs that you won't want to turn off. She has a talent for covers, too, if that's your style.
Start with: "Ode to Artifice"
---
Spider Plant → HAIM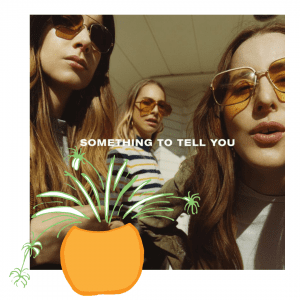 Spider plants are easy-going plants that grow small "spiderettes" that can be planted to make more spider plants. Spider plant is your mom friend. She invites you to things and is very social with everyone she meets. She always has water bottles, hand sanitizer and snacks in her purse. She is friendly to all pets (spider plants really are pet friendly) and thrives in most environments.
Chances are that you already know HAIM. The trio of sisters make easygoing soft rock that feels as familiar as your favorite pair of tennis shoes or a long-running family joke.
Start with: "Summer Girl"
---
ZZ plant → Sylvan Esso
ZZ plants are one of the easiest and cutest houseplants (in my opinion). They can work in any sunlight level and don't really need a lot of water. ZZ has very shiny, waxy leaves and will make you smile on even the rainiest of days. She is a solid friend that you can always go back to.
Sylvan Esso's electronic-forward discography is a great confidence booster. The duo's hypnotic instrumentals and looped lyrics will have you dancing in no time, even on the worst of days.
Start with: "Die Young"
---
Tricolor Stromanthe → Yaeji
The Tricolor Stromanthe is an interesting plant. Similar to the Calathea plant in light and care needs, this guy is bold and subtle at the same time. His small leaves curl up at night but open during the day to reveal pink on the underside of the leaves. He loves adding a pop of color to a space while still being mysterious.
Yaeji is a boundary-pushing DJ who draws inspiration from Korean indie rock and electronica. She peppers her songs with both Korean and English lyrics over some of the best beats you've heard to date.
Start with: "WAKING UP DOWN"
---
Neon pothos → serpentwithfeet
Neon pothos is trying hard to be really cool. Pothos are an easy-going, vining plant that usually comes in Jade or Marble coloring. Neon pothos has bright, neon green leaves you could see from a mile away. She loves to be bold and edgy but still be friendly to everyone, and stands on her own as a cool plant.
Avant-garde vocalist serpentwithfeet creates projects that sit halfway between poetry and performance. Dark and theatrical, serpentwithfeet will take you places you've never been before.
Start with: "A Comma"
---
Air plant → Kevin Morby
Air plants are really cool. People often think they are fake because they don't need any soil, and just sit nicely in any little tray you give them. They are easy to care for (just add water and sunlight) and grow extremely slowly. They are your laid back, easy to hang out with friend who is down for anything and doesn't need much to be content.
Kevin Morby occupies the rare position of making music that your grandparents and you would both enjoy. His songs are easy to listen to, with lyrics open enough that they can be left up to interpretation. It's hard to find a Kevin Morby song that offends.
Start with: "I Was On Time"
---
Pilea → Hinds
Pilea, sometimes called Chinese Money Plant, is a fun, energetic plant. She loves the sun and has bright, round leaves that grow from one center stalk like a small tree. Pilea grow small baby "pup" plants out of the soil that you can give away to friends. She is fun, extroverted and will always bring 10 friends to every party.
Hind's sunny garage pop takes you through a wild day running through the streets of Madrid. The four friends offer up punchy vocal delivery, often in unison, that only contributes to the feeling that hanging out with Hinds must be as fun as it seems.
Start with: "Riding Solo"